Lockseal
The perfect solution for enhancing the durability of push-fit pipe connections
LOCKSEAL applications
Used when installing pipes in concrete
Prevents the concrete lift force and vibrations from separating the pipes
Prevents the concrete slurry from infiltrating the gasket and causing damages to the sea
LOCKSEAL advantages
Easy and fast assembly
Increased safety margin
Tool-free installation

For details about LOCKSEAL (manual, technical specifications and logistics information for each assortment)
Aquaslim
Drainage channels for tiled shower trays
AQUASLIM is the intelligent, functional solution for draining showers into floor gullies and traps. AQUASLIM suits both new installations and renovations and is available in several lengths and a variety of grates and designs
AQUASLIM advantages
Unique design provides a solution for replacing old standard round grates with slim modern channel drains, directly on the floor gully, with or without traps and without replacing the underfloor piping
Easy, simple, fast assembly and maintenance.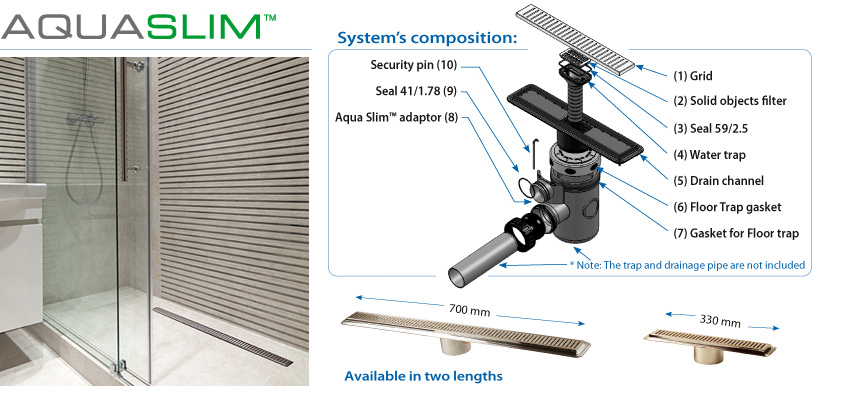 UltraSeal
ULTRASEAL is a waterproofing membrane with over-molded rubber gaskets designed to seal acoustic wastewater pipes when they run through wet rooms (e.g., bathrooms, showers) between floors
ULTRASEAL applications
Prevents structure-borne noise created between the acoustic wastewater pipes and the solid construction
Prevents moisture transition through the pipes' borehole between floors
ULTRASEAL combines state-of-the-art technology with an attention to detail for highly functional, visually appealing results.

Eshcollar
Huliot's Ultra Silent and PP-ML pipes can be protected with ESHCOLLAR, an intumescent firestop collar for plastic pipes. Manufactured from stainless steel with an inlaid graphite base, ESHCOLLAR gives highly efficient performance and mechanical operation from approximately 150°C.
ESHCOLLAR is tested and approved according to international standards (EN 1366), including for use with Huliot's Ultra Silent and PP-ML pipes (EN 13501).
Ultra Silent pipes with ESHCOLLARS before testing and 1 minute after test start: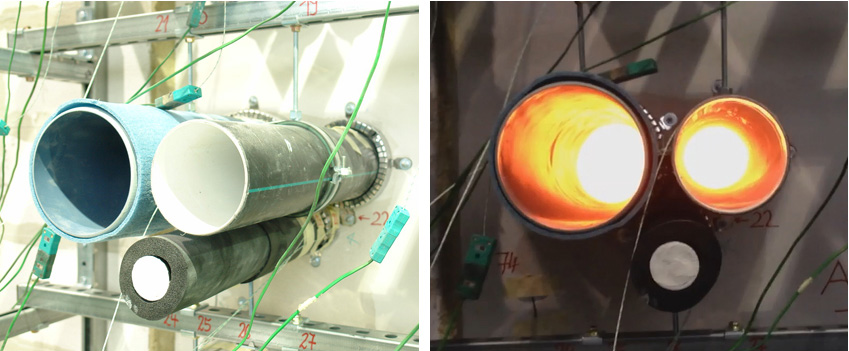 Ultra Silent pipes with ESHCOLLARS at 8 minutes and 30 minutes final test stage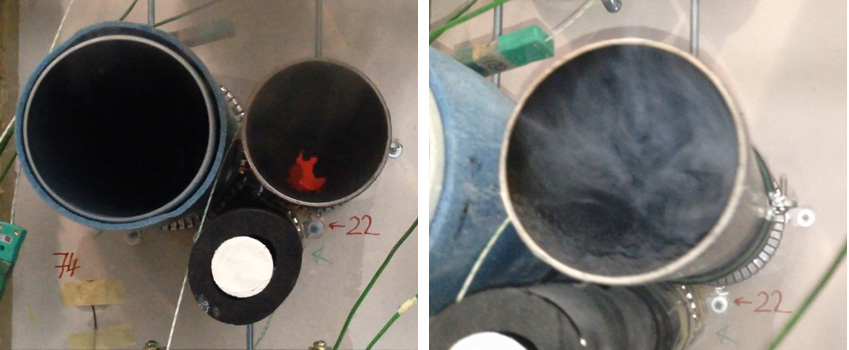 ---
Huliot's Ultra Silent and PP-ML: V30 up to Ø135 mm diameter and V60 from Diameter Ø135 mm and up
ESHCOLLAR advantages
Stainless steel collar housing
Tested and approved with U/U (open/open) positioning and El 120
Tested and approved with noise insulation materials in walls and ceilings (using the most common construction and partition types)
Tested and approved with omega (Ω) installation method
Optional assembly with no gaps between