The system
Soundproof, triple layer, push-fit system made of pipes and fittings for soil and waste discharge, at low and high temperatures, both within the building structure (application area code "B") as well as buried in the ground (application area "BD"). Pipes have a three-layer wall structure with external and internal layers of polypropylene (PP) and a middle layer of mineral-filled polypropylene (PP-MD). Fittings are made of mineral filled Polypropylene (PP-MD). All materials are halogen and cadmium free. Joints are made with push-fit sockets and elastomer seals. Suitable for the drainage of fluids, in compliance with DIN 8078, with pH between 2 and 12 at atmospheric pressure and at maximum operating temperature between 95°C and 98°C for short periods. Suitable for the construction of ventilation, rainwater and drainage systems. Can be used at environmental temperatures no lower than -25°C. The system has a sound level Lsc,A of 15dB(A) at a flow rate of 2 l/s, measured in compliance with EN 14366 and certified by the Fraunhofer Institut Für Bauphysik of Stuttgart number P-BA 20/2019e. The test was conducted using Huliot acoustic clamps. Fire performance rating is D-s2,d2 in compliance with EN 13501-1. The Ultra Silent™ System is certified by: SKZ, DiBt – Germany, DTI- Denmark, AENOR – Spain, WaterMark Australia and SII – Israel. In compliance with HR 3.43, EN 14759, UNE EN 1451-1, IS 958 "Plastics piping system for soil and waste discharge (low and high temperature) within the building structure".

The Ultra Silent™ system advantages
Excellent acoustic performance: 15dB(A) at a flow rate of 2 l/s, in compliance with EN 14366 using Huliot clamps
High impact resistance even at low temperature -25°C
Excellent resistance to high temperatures: 95°C continuous, 98°C discontinuous
High chemical resistance
Increased socket depth for stable assembly
Branches with swept angle and optimized design for smoother and increased flow
Wide range of diameters: DN 32mm to DN 200mm
High UV resistance due to black color of external layer
Recyclability: Ultra Silent™ products have the Green Label mark for environmentally-friendly products
All materials comply with RoHS directive and are Halogen and Cadmium free
10-year guarantee

All pipes have three layers to provide the highest mechanical performance.
External black PP layer provides excellent impact resistance and long-term UV protection
Intermediate PP-MD layer provide high mechanical resistance and excellent soundproofing performance.
Internal Layer low-friction white PP layer provides the best flow performance, high resistance to chemical agents and high-definition contrast for visual monitoring.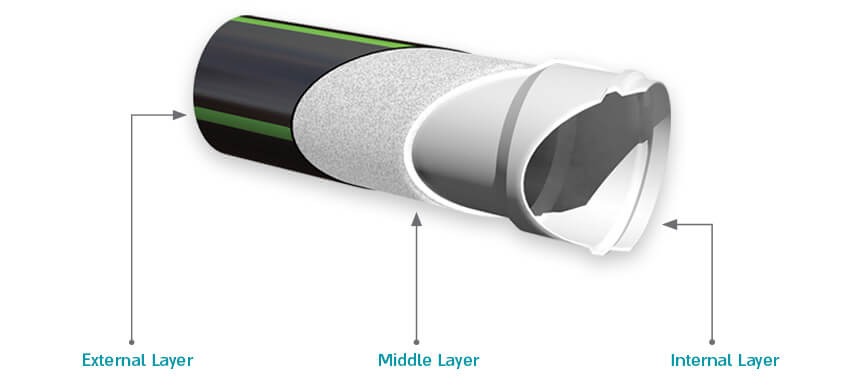 Marking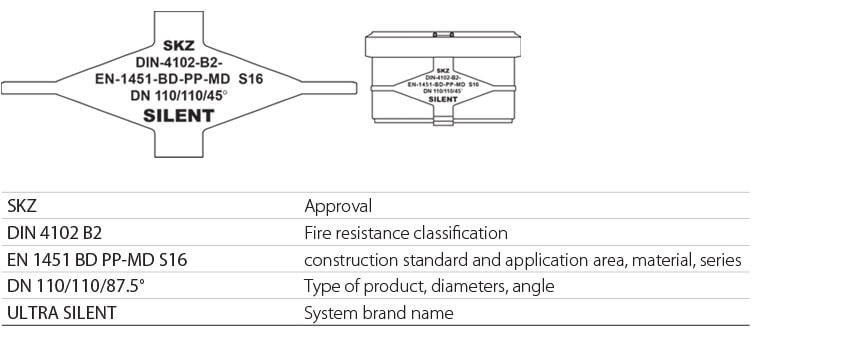 Product Certificates

The Ultra Silent™ System is certified by SKZ, DiBt – Germany, DTI- Denmark, AENOR – Spain and SII – Israel. In compliance with HR 3.43, EN 14759, UNE EN 1451-1, IS 958 "Plastics piping system for soil and waste discharge (low and high temperature) within the building structure".
E-Catalog
For details about the Ultra Silent™ program, see the Ultra Silent section in the e-Catalog (includes technical specifications and logistics information for each assortment).
Certificates & Approvals
Quality, Environmental, Occupational Health and Safety management. Quality management according to ISO9001:2015, environmental management according to ISO14001:2015 and occupational health and safety management according to ISO45001:2018, approved and certified by Israel Standards Institute.

Standards
EN 1451-1: Polypropylene (PP) piping systems for soil and waste discharge (low and high temperature) within the building structure
EN13501-1:2009: Classification of system's fire behavior, smoke emission, flaming  and droplets
EN 4102-2: Reaction to fire tests (ignitability of building products subjected to direct impingement of flame)
EN 14366: Laboratory measurement of noise from wastewater installations
IGTD 116 based on standards TSC 29. Huliot is licensed to mark the Ultra Silent products with the Green Label, license no. 70304
System approvals
SKZ mark certificate no. A624.
Fraunhofer IBP Test Laboratory reports P-BA 78-81/2012e (see acoustic chapter).
---

Ultra Silent™ Datasheet
System Brand Name: Ultra Silent™
Color: Black, Diameter: 32-200 mm,
Application: Soil and waste discharge systems (low and high temperatures) within the building structure (application area code "B") as well as buried in the ground (application area "BD"); construction of ventilation, rainwater and drainage systems inside the building structure (application area code "B")
Pipe Material: Co-polymer PP for the external (black) and the internal (white) layers.  Compound of PP and PP-MD for the middle (white) layer.
Fitting Material: PP and PP-MD
Connection Push-fit sockets with elastomer rubber seals. Seal Material: SBR-NR, NBR, EPDM
Temperature performance:  Minimum Working Temperature -25°C, Maximum Waste Water Temperature +95° continuous, +98° discontinuous
Chemical resistance: System materials resist aggressive discharge media in the range of pH 2 to pH 12, according to DIN 8078. For details about chemical resistance
The chemical resistance list is intended as a general guideline about the chemical resistance of the material and cannot simply be applied to all applications. The specifications in the list are not intended as a guide to determine the possible effects on the reagent. Mechanical behavior may be impaired in cases where tension and the presence of chemicals occur simultaneously (tension-fracture corrosion).
Fire resistance: The Ultra Silent system has been tested and certified by the IBS Institute (EN 13501-1:2009) and classified D-s2, d2.The Ultra Silent pipe system is free of halogen or cadmium.
The system meets the requirements of EN 4102-1 with fire classification B2, smoke development category Q1 (low smoke development) and drip formation category TR1 (no drip formation).
Elastic modulus: E-modulus tested according to ISO 178 and reached 2.300-3.000 N/mm² for Ultra Silent and 2.600-3.200 N/mm² for Ultra Silent Plus.
Elongation: Coefficient of elongation was tested and reached the results of 0.09 mm/m*C° for Ultra Silent™ pipes and 0.05 mm/m*C° for Ultra Silent Plus™ pipes.
Ring stiffness: Ring stiffness was tested according to ISO 9969 and reached the following for dimensions Ø32-200: Ultra Silent: SN6 at least 6.0 kN/m², Ultra Silent Plus: SN12 at least 12.0 kN/m².
UV Resistance: Suitable for external installation when protected from exposure to direct sunlight (for instance, by means of special UV protective coating); can be stored outside up to two years.
Acoustic Performance: Lsc,A = 15 dB(A) at 2l/s, measured at ground level behind installation wall, with two Huliot acoustic clamps per floor.
Construction Standard: HR 3.43, EN 14759, UNE EN 1451-1, IS 958
Acoustic
Noises From Wastewater and Drainage Systems
The need to improve humankind's quality of life has led to the treatment all types of pollution — most of which are created by humanity itself. Noise, particularly disruptive noises in buildings, is a treatable pollution in almost every living environment.
Every object in motion makes noise when it transmits vibrations, in the form of pressure or negative-pressure waves, to the surrounding air. There are two types of noise in drainage and wastewater systems:
Airborne noise – comes from pipelines and is generated by wastewater flowing inside. In this case, a soundproof drainage and wastewater system should limit the propagation of airborne noise and keep it inside the pipes. This is achieved by using specially formulated materials using minerals in a three-layer pipe structure, and high manufacturing quality with correct installation.
Structure-borne noise – comes from pipes and fittings as well as from the structure's fastening system of brackets and clamps. The sound comes from the noise inside these systems, which resonates and is transmitted through the pipe clamps to the building's structure. The noise is often heard in neighboring rooms as an irritating acoustic wave.
In this case, it is important to design the fastening of pipes and fittings to the building's-structure using a system that reduces the acoustic resonance to the minimum.

Acoustic Performance of the Ultra Silent System
The Ultra Silent™ system acoustic performance was tested at the Fraunhofer IBP Test Laboratory (Germany) in accordance with DIN 4109, VDI 4100 and EN 14366 standards. The system assembly (illustration below) has 110 mm diameter pipes and fittings, measured at ground level behind installation wall, with two Huliot acoustic clamps per floor.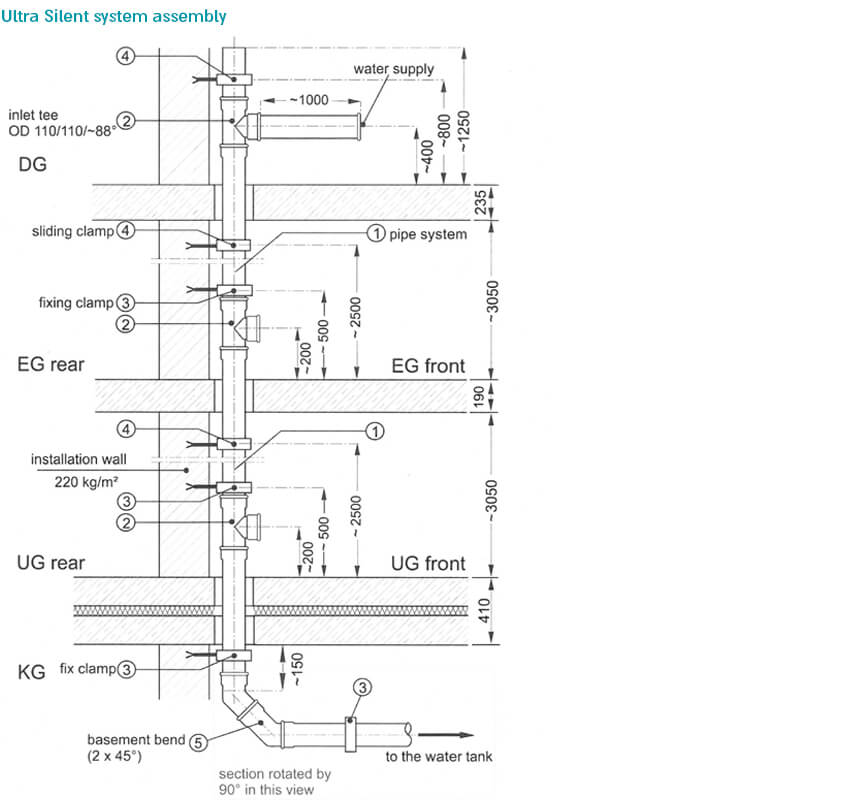 The table below details the results of the Ultra Silent pipe system's noise reduction performance at various continuous water flow with 0.5 l/s, 1.0 l/s, 2.0 l/s, 4.0 l/s. The results represent readings of the sound level taken and measured in the basement test room (UG at the front and rear of the wall, EN ISO/IEC 17025). Airborne sound pressure and the characteristic structure-borne sound levels were measured according DIN 4109, VDI 4100 and EN 14366 standards.
Acoustic Performance Test Results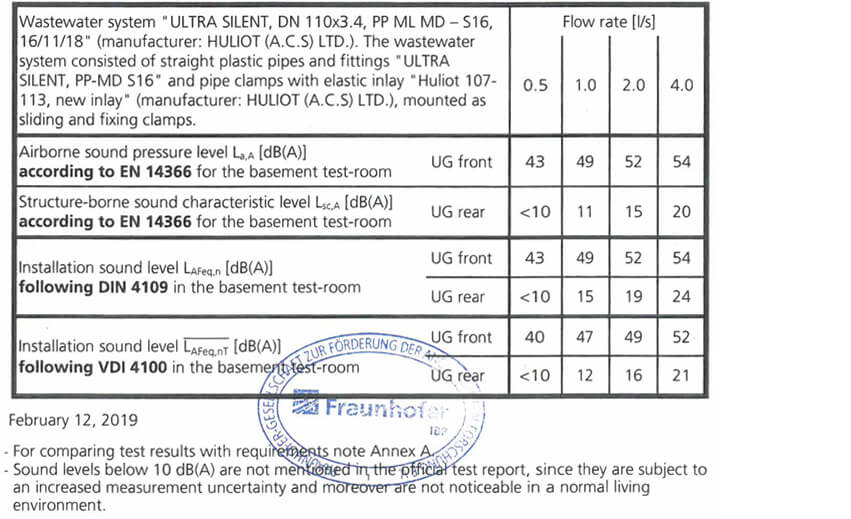 Installation of the Ultra Silent™ System
Pipe preparation and assembly
Pipes are produced in various lengths with one or two sockets and with plain pre-beveled ends. If cutting to length is needed, use only proper cutting tools for plastic pipes (manual or mechanical) and bevel the cut pipe end with an angle of approximately 15° with bevel length of about 5 mm
Remove chips, shavings and sawdust before installing
Check the position and integrity of the lip seal in the socket gasket slot. Clean the seal and the socket and apply a thin layer of lubricant around the plain pipe end
Fittings should be inserted to maximum socket depth whereas pipes, after being pushed completely into the socket, have to be pulled back of approximately 10 mm
For anchoring Ultra Silent™ system to walls and ceiling use steel brackets with rubber inserts approved for acoustic insulation systems
Horizontal pipes should be installed with a slope of 1 to 5%. Unless differently prescribed by specific country regulation a 2% slope is a good compromise between a good flow and the space needed for the installation.
As a general rule, straight lengths of pipe must be anchored by mean of fixed point brackets (F) under each socket, while the rest of the pipework and the fittings will be supported by sliding point brackets (S)
The Maximum distances between the brackets for horizontal and vertical installation are shown in the below table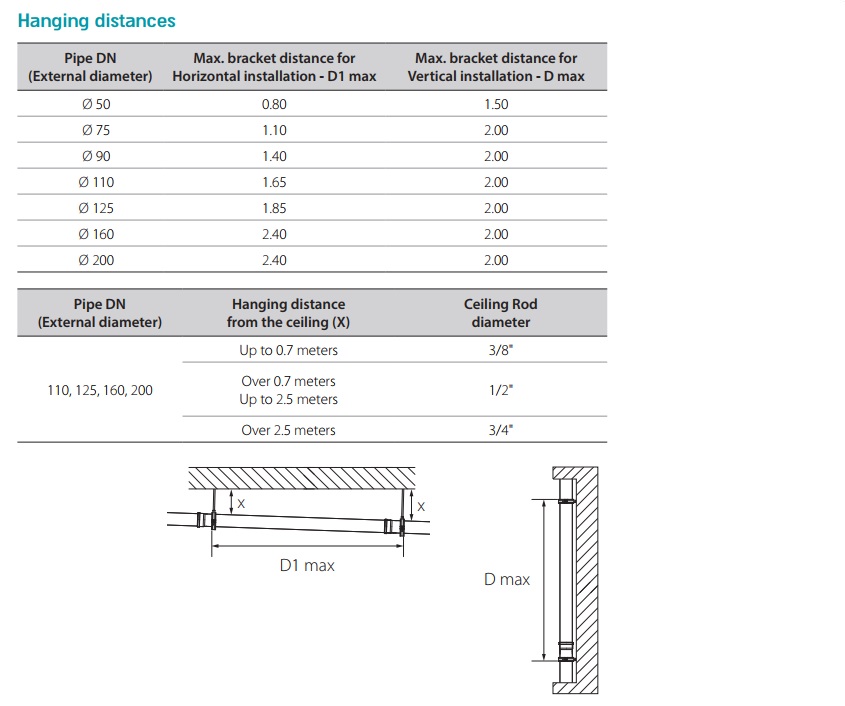 Installation through ceilings, floors and walls
It is important in acoustic insulated systems to avoid contact between system components and rigid elements, such as walls, ceilings, floors etc., in order to prevent structure-borne noise transmission.
For pipes traversing walls and ceilings, a space of at least 30 mm should be maintained between the pipe and any rigid material.
If the spaces around the pipes traversing walls and floors must be filled, use only soft construction materials such as foam or glass fiber (Figure 1).
In case of pipes traversing floors where protection against humidity is needed we recommend to use Huliot Ultra seal (see description in following pages).
For improved hydraulic flow and reduced noise, 87° bends are not recommended to be used for changing flow direction from vertical to horizontal. It is preferable to use two 45° bends, with 2D minimum length of connecting pipe between them (Figure 2).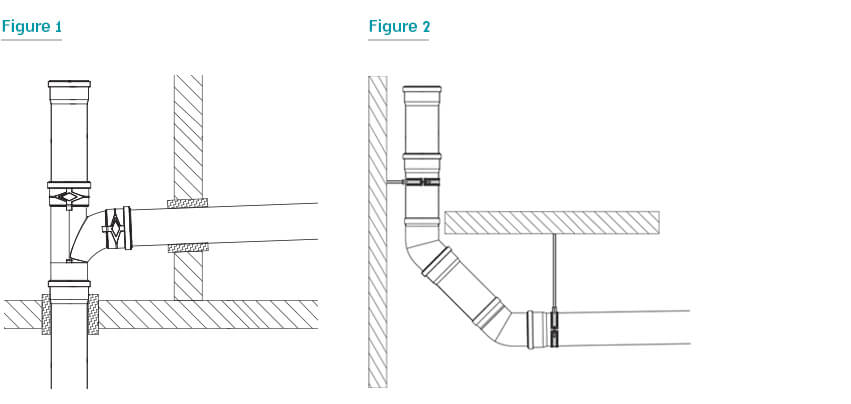 When installing pipes in open spaces (such as basements, parking garages etc.), above suspended ceilings or behind screen walls, prevent any contact of other material (such as suspended ceiling, electrical, water, ventilation and air conditioning systems etc.) with the pipes (Figure 3).

Repairs and installation
To add a branch (USEA) to an existing pipe with long socket (USTL) and sleeve (USU), insert the long socket plain end into the branch socket, cut the equivalent of the socket length from the existing pipe piece. Insert the long socket into the upper pipe all the way. Fix the sleeve on the lower pipe and slide the branch and long socket down into the sleeve (Figure 4). An alternative possibility is to use two sleeves and plain pipe (the minimum plain pipe length must be more than double that of the external pipe diameter DN, as in Figure 5 (
To fx punctured or damaged pipe, the same methods can apply with one socket pipe (USEM) instead of the branch and for adding inspection pipe (USRE) or double branch (USDA).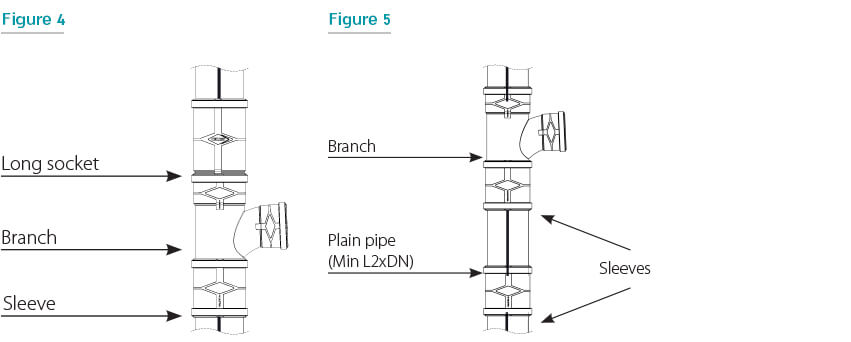 Transportation, handling and storage
It is recommended to handle the pipes and fittings in their original sales packaging to protect them and prevent damage during loading and transporting. Load and transport pipes in straight, horizontal position with the full length supported (note that the sockets are unencumbered all around), avoid extreme pressure on the pipes (straps or other heavy materials).Unload and handle pipes carefully and lay them in a straight, horizontal position (pay attention to positioning of the sockets), on a smooth surface.

Some sizes of pipes and all fittings are packed in carton boxes. Protect them from rain and moisture and store them in a dry place. It is recommended to store the pipes and fittings in their original sales packaging to protect them from damages.
Ultra Silent™ pipes are UV protected and can be stored outdoor for up to 3 years (depending on geographical location). The gasket material can withstand outdoor storage for up to 3 years and after this period must be replaced before installing.
When using mechanical tools and machines (forklifts, cranes etc.) extra caution should be taken to prevent damages to the products. Optical defects (external scratches and pigment changes etc.) have no influence on the quality and/or functionality of the system.
Architects and Planners Support

Detailed and millimeter accurate product drawings in several views offered clearly in REVIT format. In cultivation practices, the user integrates the products to scale in the design drawing. The products contained in 3D display.