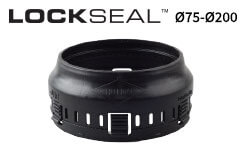 The perfect solution for enhancing the durability of push-fit pipe connections, Used when installing pipes in concrete.
Lockseal™ Prevents the concrete lift force and vibrations from separating the pipes.
Lockseal™ Prevents the concrete slurry from infiltrating the gasket and causing damages to the sea installing pipes with long-span suspension creates a firmer connection between the pipes and provides additional safety for the system, especially for horizontal configurations in open spaces with vehicle traffic (e.g., parking garages, warehouses, plants, airports, and other high-traffic locations)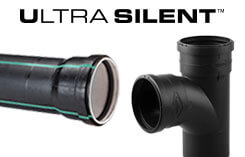 Huliot's Ultra Silent™ is the most effective soundproof non-pressure wastewater and drainage piping system made of mineral-reinforced polypropylene compound (PP-MD). Suitable for above and below ground installation both inside and outside the building structure.
Available in diameters from 32 mm to 160 mm. Ultra Silent™ complies with all mechanical and measuring
requirements (EN 1451-1)
read more …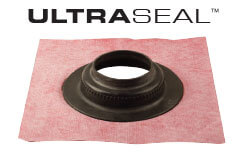 The ultimate solution for installing Ultra Silent™ system to achieve excellent performance. A cardinal  principle underlying the installation of an acoustic wastewater system is to prevent direct contact between the system and the building structure to stop structure-borne noise. In wet rooms, where water passes within floors or walls, ULTRASEAL™ presents the ideal solution to seal and prevent vibration transfer.